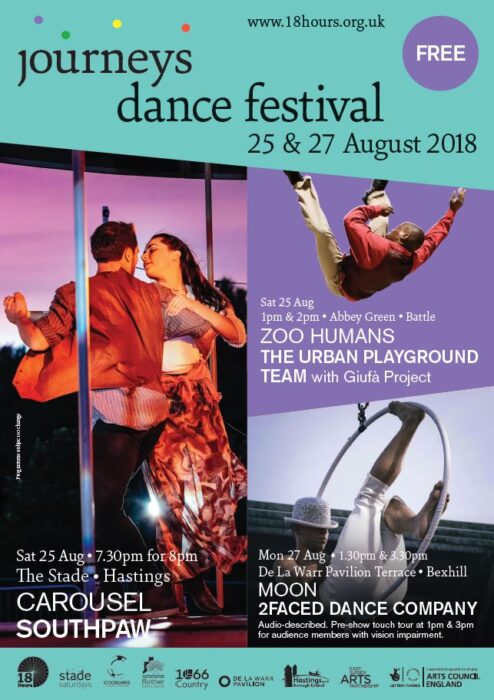 ---
What's on?

Saturday 25 August Zoo, 1pm & 2pm: Abbey Green, Battle
HUMANS by THE URBAN PLAYGROUND
These short, lively parcourt / dance performances take a humorous look at what it means to be human – constantly pulled at by our evolutionary past.
There will be a free workshop in between the performances. 
No need to book – just turn up.
FREE
---
Saturday 25 August, 7.30 for 8pm, The Stade Hastings
CAROUSEL by SOUTHPAW 
With support from Garry Blakely – fiddle and guitar duo at 7.30pm approx.
Carousel is a dance performance centered on a 1900's style functioning carousel. The story revolves around the enigmatic characters that inhabit a travelling Fairground, and in particular what
occurs when it shuts down for the night. Music, dance and drama play out after hours on a spectacular moving carousel structure which enables dancers to flip, roll, dive, and spin to an eclectic Balkan and Gypsy influenced score that will enthrall audiences.
There is limited seating available on a first-come-first-served basis. The show will start after some live music from Garry Blakely duo.
Fresh from the Greenwich and Docklands Festival, this witty and immersive pop-up dance from a renowned UK company explores the strange and often hilarious world of online dating.
FREE
---
Monday 27 August, 1.30 & 3.30pm (25 minutes) Audio-described. Pre-show touch tour at 1pm & 3pm for audience members with vision impairment.
MOON by 2FACED DANCE CO 
A spectacular and accessible outdoor dance circus producton for families (aged 3+).
Follow Jack as he meets Mr Moon and together they embark on an amazing adventure; what secrets, characters and surprises will they discover on their quest? Watch Jack's world come to life with giant quilts, aerial hoop, breathtaking dance and a whole host of mess and mayhem.
Inspired by Hans Christan Andersen's original story What The Moon Saw and reimagined by 2Faced Dance Company, this new accessible, outdoor dance and circus performance for litle ones and their families.
30 minutes before each performance there will be a 15 minute touch tour lead by a company dancer where blind and partially sighted audience members can join us for an exclusive touch tour of set, props, costumes and characters.
FREE
---
Programme subject to change
What I love about Journeys is seeing new dance that you wouldn't normally get to see
Journeys brings something different to Bexhill
So many different people enjoying themselves together
Free and accessible

Audience members