Read Your Way started in 2019 to encourage reading among children and young people in Hastings. It's part of the Get Hastings Reading campaign from Hastings Opportunity Area and includes reading events around Hastings, over 10,000 books donated to children across Hastings and accessible public reading areas set up around town.
Read Your Way Hastings makes it easier for children, young people and their families take part in reading often. There is so much fun to be had in the world of books. We'll create events, places and experiences that bring people and books together to inspire a life-long love of reading.
Thank you to Kevin Graal for his latest beautiful story, produced in March 2021 for Hastings Storytelling Festival and Read Your Way Hastings
Family Reading Group
This group of parents and children from St Leonards Primary Academy was meeting weekly for storytelling workshops with Xanthe Gresham. Due to Covid 19 and lockdown, the Family Reading Group can't meet, so Xanthe has put some stories here instead!
After you've watched Puck and the Fairies, have a think about the different months. May is a magical month because everything is growing. What is your favourite month and why?

Xanthe Gresham, Storyteller
After you've watched There's a Hole at the Bottom of the Sea, pretend you are swimming down to the bottom of the sea. What do you find there?

Xanthe Gresham, Storyteller
After you've watched We All Go Travelling By, have a think about ways that you have traveled. What's your favourite way to travel?

Xanthe Gresham, Storyteller
Did you enjoy watching Little Red? What would YOU say to the big bad wolf? What French words did you learn?

Xanthe Gresham, Storyteller
After you've watched The Blanket, have a think about knitting. Has anyone you know knitted something? Where does wool come from? What are ancestors? Do you know any stories about your ancestors?

Xanthe Gresham, Storyteller
Past Read Your Way events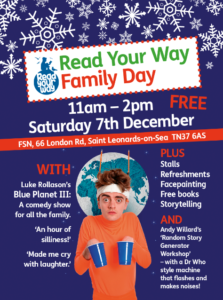 December 2019: Read Your Way at Christmas
A free family event at FSN in Central St Leonards
Comedy, workshops, storytelling, face painting, stalls, music, refreshments and Santa. Highlights included Luke Rollason's live comedy show, Blue Planet III and Andy Willard's 'Random Story Generator'. 
Over 50 free books were given out to children.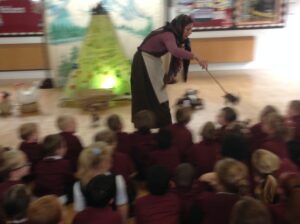 October 2019: Oskar's Amazing Adventures
A puppet show at Churchwood Primary School as part of Hastings Storytelling Festival
60 Key Stage 1 children enjoyed Oskar's Amazing Adventure from Theatre Fideri, about a day in the life of a mischievous puppy in the Swiss mountains.  The show was attended by the author, Colin Granger.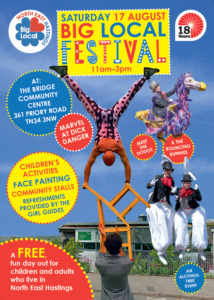 August 2019: Big Local Festival
Free community festival at The Bridge Community Centre
Families from North East Hastings enjoyed puppet shows, face painting, street theatre and storytelling. At the event, Read Your Way gave away free books. The event was produced for Big Local North East Hastings.
Read Your Way is led by the Education Futures Trust and a consortium of partners: Culture Shift, FSN, 18 Hours, Hastings Storytelling Festival and the National Social Marketing Centre