Our team has a wealth of research experience, across education, events, consumer behaviour, marketing and social dynamics. We'll tailor a methodology that works for your audiences to discover answers to your questions, understand your audiences, reveal insights and make sound recommendations for change and development.
Get in touch if you think we could help.
360 Case Study (2019)
Client: University of Brighton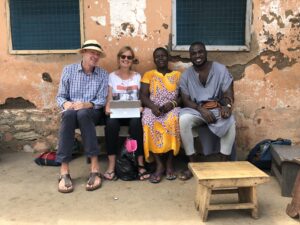 Research to critically understand the role of contemporary arts in community development in Labadi, Accra, Ghana.
Evaluation 'Current Affairs' with Serge Attukwei Clottey (2019)
Client: University of Brighton
A project with innovative methods to collect audience responses to themes highlighted in the exhibition working with a focus group of volunteers at Fabrica during Brighton Festival.
Evaluation 'Silence', a Teatr Biuro Podrozy residency (2016)
Client: MSL Projects
Evaluation of a three day residency, including two performances in Newbury.
Mapping Opportunities to Dance in Rother (2016)
Client: Rother District Council
Report and database of dance provision across Rother.
Student Identities in new spaces of higher education (2015)
Client: University of Brighton
PhD research using visual methods to explore the students' experience in a new university town.
How Do We Know It's Working? (2015)
Client: (partner): Reading International Solidarity Centre
Developing a teaching resource for schools to audit attitudinal change within global citizenship.
One Planet City (2015)
Client (Co-Author): Fotodocument
Developing and field-testing a photographic teaching resource for schools incorporating activities about sustainable living in cities.
Parental Engagement II (2013)
Client: East Sussex County Council & University of Brighton
An in-depth study with six schools engaging parents with English and maths.
Parental Engagement I (2012)
Client: East Sussex County Council & University of Brighton
A study of 25 schools, engaging with parents as researchers.
Creative Industries Evaluation Report for Media Enterprise Centre (2011)
Client: University of Brighton
Survey of 179 participants across the creative industries in Hastings and Rother.
Cultural Regeneration Strategy study (2011)
Client: Hastings Borough Council
Survey of local residents' engagement with cultural regeneration in Hastings.
Thinking for Global Citizenship (2011)
Client (Co-author): West Sussex County Council
Creation of teaching resource compiled in collaboration with a network of West Sussex teachers.
A Foster Parent's Guide to looking after BAME children (2009)
Client: East Sussex County Council
Research included local opportunities and networks to support carers looking after children from BAME backgrounds.