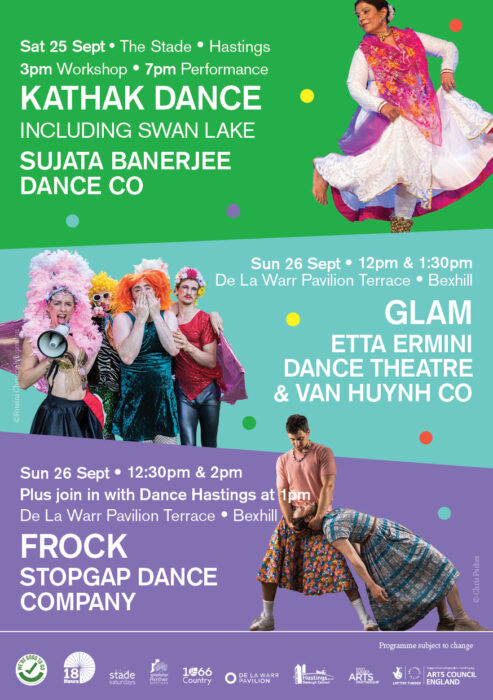 What's on?
 

Saturday 25 October, 3pm Workshop, 7pm Performance: The Stade, Hastings
SUJATA BANERJEE DANCE CO- KATHAK DANCE including SWAN LAKE
Sujata Banerjee Dance Co will run a Kathak worshop in the afternoon and present an evening of Kathak dance and a short excerpt of the unique dance theatre Swan Lake which was first presented in Hemantika 2018.

FREE
---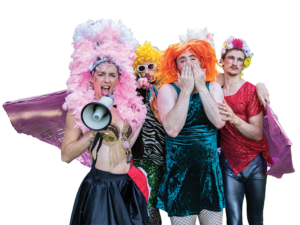 Sunday 26 October 12pm& 1.30pm, De La Warr Pavilion Terrace
GLAM ETTA ERMINI DANCE THEATRE & VAN HUYNH CO.
Glam is a vibrant dance and circus cabaret, a humorous outdoor street performance celebrating fabulousness. Audience members are encouraged to join in the fun to dance with the cast in this gloriously fast paced show of acrobatics, hand to hand, disco, feathers, glitter and glamorous make-up!
This colourful performance highlights the power of bringing people together through dance, popular music and invites each of us to celebrate the most fabulous part of ourselves. Inspired by club culture and the journey of the LGBTQ+ community, Glam is accessible to all ages and backgrounds.
FREE
DANCE WORKSHOP WITH HASTINGS DANCE 1pm
---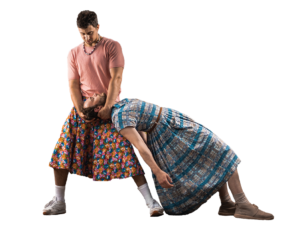 Sunday 26 August, 12.30pm & 2pm De La Warr Pavilion Terrace
FROCK, STOPGAP DANCE COMPANY
Six striking dancers collide in an uplifting dance riot. In this eccentric outdoor dance piece, experience playful observations of the yesteryears that explode into a punkish celebration of individuality and difference.
Set to an exclusive art rock soundtrack by Hannah Miller of Moulettes.
---