Please check out our film for Streets of Wealden 2023
---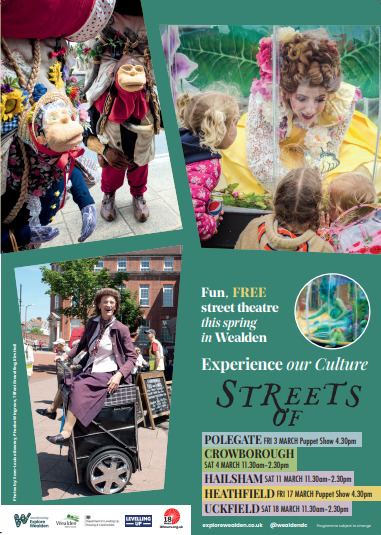 ---
STREET PERFORMANCES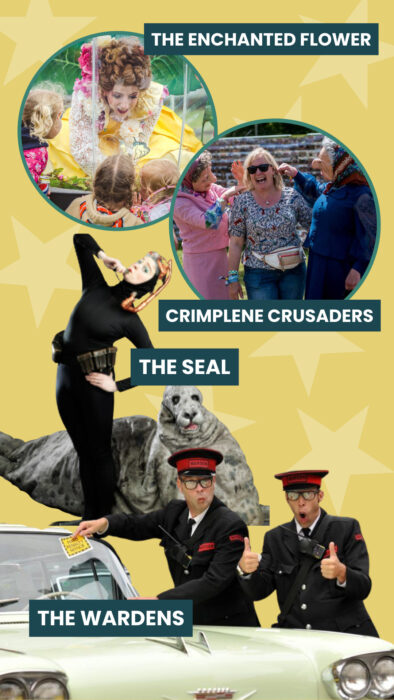 CROWBOROUGH
Sat 4 March, 11.30 AM – 2.30 PM
The Seal by Circo Rum Baba
Salana the seal and Marina Mudflat the
marine biologist are very friendly. Just watch
out for seal spit!
The Enchanted Flower Globe by
Show Globe
Say hello to beautiful Floris
in her miniature world, brimming with
butterflies, flowers and Spring colours.

The Wardens by The 2 Men
They have been empowered with the
jurisdiction to enforce any rule or law they see fit.
Watch out or you may end up with
a ticket!

Crimplene Crusaders
by Vamos Theatre
These twin-set
clad campaigners will keep a firm eye
out for any slouching, flirting, or handholding, making
sure that good old fashioned values are championed.
Sat 11 March, 11.30 AM – 2.30 PM
Hodman Dodmanott and Sally Forth by The Flying Buttresses
Two tiny elderly backpackers set out to
fathom the modern world! An interactive,
unforgettable, spell-binding act.
The Sea Sphere by Show Globe
An enchanting mermaid glides through Hailsham in a beautiful, bubbling, shimmering underwater world.
Granny Turismo
The world's first (and only) shopping trolley
dance display team! When these girls arrive on their souped up shopping trolleys, everybody knows about it.
UK African Acrobats
Sizzling skills honed on the streets of Dar Es Salaam: these dazzling acrobats make hair-raising feats look simple.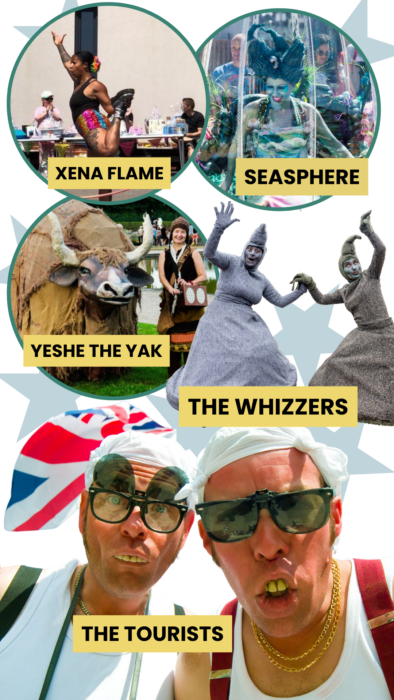 Sat 18 March, 11.30 AM – 2.30 PM
Yeshe The Yak by Thingumajig Theatre
The gentle, mysterious Yeshe is very fond of children, especially those who carefully stroke his nose or tickle his fringe.
The Sea Sphere by Show Globe
A mermaid glides through Uckfield in a beautiful, bubbling, shimmering underwater world.
The Tourists by The 2 Men
East End geezers, Terry and Derek, have won a competition in The Sun newspaper to attend this event. Help them find some pie and mash, top up their tans and take in the sights of Uckfield!
The Whizzers by Circo Rum Baba
These small, unpredictable sprites perform mesmeric gliding dances. Get ready for them to chase, or dance with you!
Xena Flame
Hula Hooping fun time for everyone! Xena will be performing in
---
PUPPET SHOWS
---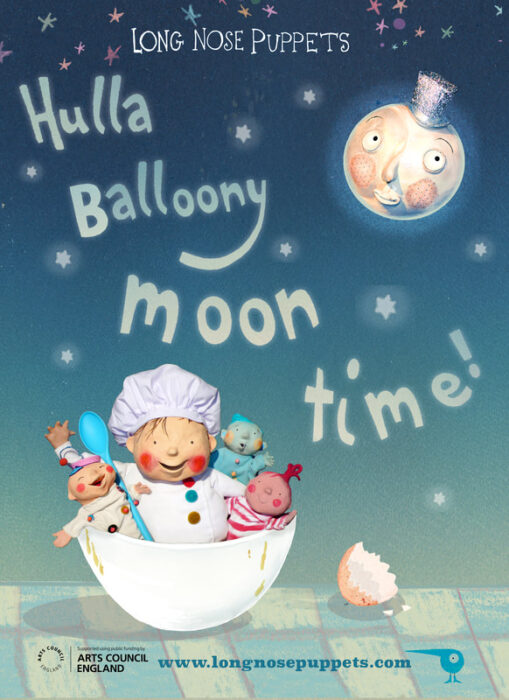 POLEGATE
Fri 3 March, Puppet Show, 4.30 PM
ST GEORGES HALL, 110 EASTBOURNE ROAD, POLEGATE BN26 5DF
Hulla Balloony Moon Time! by Long Nose Puppets.
Little children will feel the magic at this riotous, zany show.
45 minutes of cakey fun, puppets and a dance with the moon.
Based on 'Pat-a-cake Baby' by Joyce and Polly Dunbar, with music
and songs by Tom Gray
HEATHFIELD
Fri 17 March, Puppet Show, 4.30 PM
UNION CHURCH HALL, STATION ROAD, HEATHFIELD TN21 8LB
Woodland Tales by Pickled Image
Something is happening in the woods,
voices can be heard, and a strange
metallic smell fills the air. Laura the ladybird,
Jeffrey the spider, Brett the Woodlouse and
Willoughby the Woodpecker are worried.
Velda the Vixen knows there's one
person who can help them – Granddad.
But is there enough time to save the
wood? For ages 3+.
By Pickled Image and Hattie Naylor