A new annual light festival with an illuminated parade and creative light shows.
---
Bexhill After Dark is free and un-ticketed.
Registration is optional but helpful as it gives us an idea of numbers.
---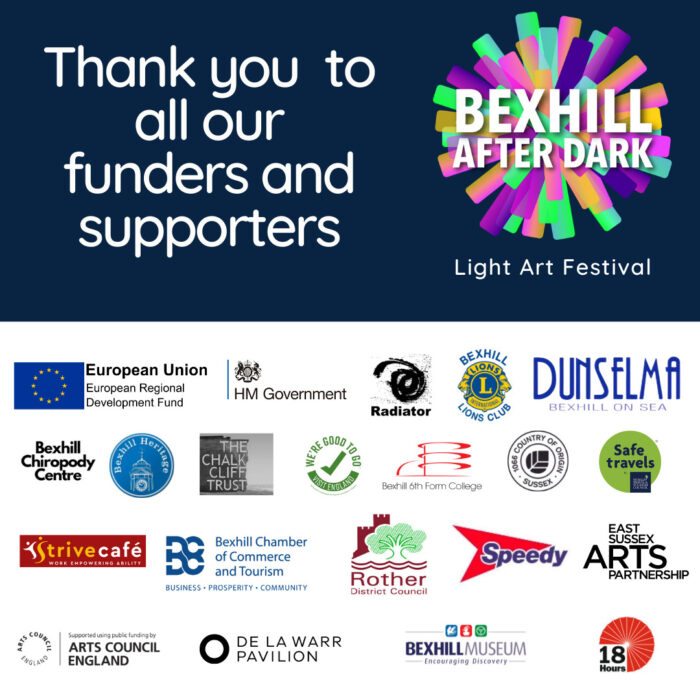 ---
Darkness falls and Bexhill comes alive with light.
Giant faces sing, illuminated acrobats twirl, a living snow globe glides, the lightship sways and buildings glow.
New, spectacular, playful, uplifting.
---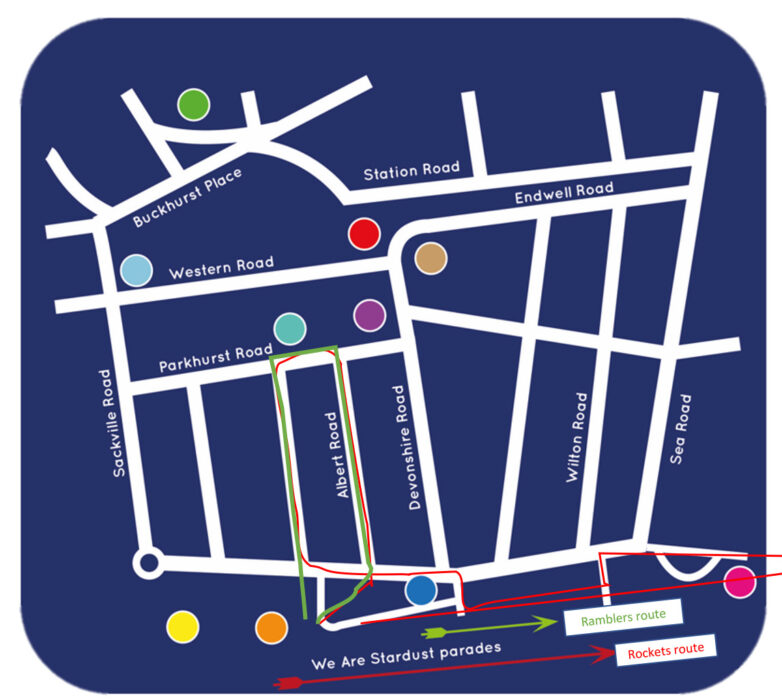 See bottom of the page for Road Closures during this event.
---
We are Stardust
Illuminated wheels parade
Illuminate yourself and your wheels and join the parade. All welcome.
Line up 5.00pm | Depart 5.30pm (approx 30min)
De La Warr Pavilion Terrace
Ramblers: Under 10's, buggies, mobility scooters, wheelchairs, walkers, schools. (approx 1/2mile). SEE GREEN ROUTE ON MAP ABOVE
Rockets: Bikes, skateboards, scooters (non-electric), roller-skates (Route as Ramblers plus extended along prom towards Galley Hill). SEE RED ROUTE ON MAP ABOVE
RULES:
No naked flames or bangers. Respect social distancing
Dazzle Workshops
Drop in on Saturday 22 or 29 January, between 10am-4pm
Strive Cafe, 8 Sackville Rd, Bexhill-on-Sea, TN39 3JA
Bring your wheels to a half hour session at one of Radiator Arts' free parade decorating workshops.
email radiatorarts@gmail.com with any questions
---
The Beach Beacon
by De La Warr Pavilion &
Bexhill College.
The iconic building becomes a lightbox of shifting colours & projections. With an audio soundtrack by Bexhill College students.
De La Warr Pavilion Terrace
5.00 | 6.45 | 8.00pm (30min)
Also on…
Sunday 30, Monday 31 March
& Tuesday 1st February
6.30 – 8.30pm
---
Talking Heads by Impossible Theatre
Watch your giant animated face saying and singing lines from popular media.
In front of the Town Hall
4.30 – 8.30pm
---
The Living Snow Globe by The Show Glow
The Ice Queen glides between the audiences, capturing hearts as she goes.
Devonshire Square
5.00 | 6.30pm (45min)
---
The Candle by The Dream Engine
A nine-metre high, illuminated arial show performed to music.
Devonshire Square
4.45 | 6.00 | 7.15pm (10min)
---
The UK African Acrobats
Feisty, funny and fabulous fire show from dazzling performers.
Outside Library (corner of Sackville & Western Road)
5.00 | 6.00 | 7.00pm (30min)
---
The Leviathan by Radiator Arts
A fantastical illuminated creature arcs and twists in the wind
Corner of Devonshire & Parkhurst Road
4.30-8.30pm
---
On the High Street by Shared Space and Light
The history of Bexhill shops, brought to life with shop owners' stories projected as 3D videos onto the facades of local shops.
Shared Space and Light have previously produced similar works for nationwide events such as the Cultural Olympiad and the WW1 commemorations. Visit www.sharedspaceandlight.com to see their work.
Parkhurst Road
4.30-8.30pm
---
Brilliant Bandstand by Bexhill Heritage
The bandstand, currently being restored by volunteers, comes alive with light and music ahead of its launch in 2022.
The nearby Bathing Station Café will be open.
Bexhill Seafront (just east of De La Warr Pavilion)
4.30-8.30pm
---
The Stardust Gateway by Radiator Arts
Walk through the shimmering, twinkling arch,
created by local artist Kate Bruce.
De La Warr Pavilion Terrace
4.30-8.30pm
---
The Light Ship by Circo Rum Baba
Follow the glowing ship as it battles the waves of Bexhill, its salt-soaked crew clinging to the masts.
In the parade at 5.30pm & by the De La Warr Pavilion at 6.15pm
---
Plus
The splendid Dolly Delicious will be surveying the event from her stilts. She's sparkling inside and out!
4.30pm Sackville/Western Rd
5.45pm Sackville/Parkhurst Rd
7.30pm  Sackville/Western Rd
Visit Dolly Delicious' website here
Programme subject to change
Road closures:
Parkhurst Road will be closed with access only:
Fri 28 January 1.00-9.30pm (west of the junction with Albert Road)
Sat 29 January 4.30-11.00pm (from the junction with Devonshire Road)
There will be a short temporary rolling road closure on Marina, Marina Court Avenue and Devonshire Road (20 mins between 5.15 & 6.15pm)