What do your pupils know about…
Diversity and Identity | Human Rights | Interdependence | Sustainability | Social Justice | Peace and Conflict
Bring the global dimension into the classroom and help your pupils develop into active global citizens with an understanding of The Global Goals.
Challenge stereotypical thinking. Promote creative and critical analysis about the world we share and the social, political and environmental forces that shape lives.
Influence your school's world view.​​​​
18 Hours is part of CoDEC (The national consortium of Development Education Centres)
Lovely training. I enjoyed the multi-sensory learning.

Teacher, St Mary Star of The Sea School
An Anti-Racist Approach to Education
Thursday 25 February 2021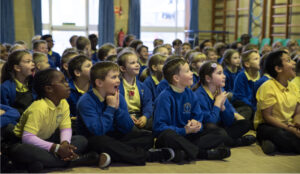 95% of young Black people in the UK have heard or witnessed racist language at school with 51% of males saying they heard it 'all the time'.
YMCA's and Young and Black Report (2020)
In response to the disproportionate impact of Covid-19 on ethnic minorities, Diversity Resource International is facilitating a series of Zoom webinars to allow members of the community to share experiences, ask questions and suggest solutions for systemic changes.
Mandy Curtis, Director of 18 Hours joins the diverse panel on this Zoom webinar.
More information: https://driorg.com/events
Questions? email community@driorg.com
We've worked with…

St Mary Star of the Sea Primary School | Salehurst Primary School | West St Leonards Primary Academy | Roberstbridge Community College | Baird Primary Academy | Rye Primary School | St Mary Magdelene Primary School | Egerton Primary School | Christchurch Primary School | Etchingham Primary School | Blacklands Primary School | Sacred Heart Primary School | Icklesham Primary School | Woodchurch Primary School | Sandown Primary School | Hankham Primary School
18 Hours is part of CoDEC (The national consortium of Development Education Centres)